---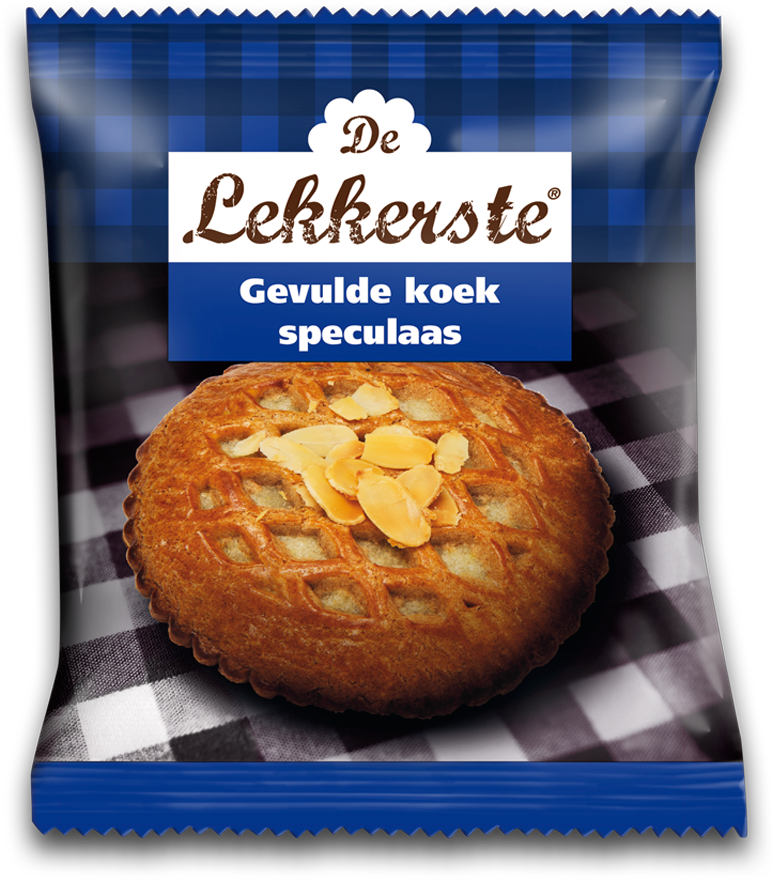 Speculaas almond cake
De Lekkerste's speculaas almond cake is a real Dutch classic with a twist: it is filled with a rich almond flavour with speculaas. A popular flavour for cakes and cookies, available all year round! This version of the cake is topped with grated almonds. The speculaas almond cake comes in a single-portion pack. Wonderful as a snack, for when you're on the go or as a treat. Simply De Lekkerste (The Tastiest)!
Ingredients
Sugar, wheat flour, Vegetable oils: Palm Oil/ Rapeseed Oil, White Beans, soybean, Glucose-fructose Syrup, Modified Starch, 2% almond shavings, Stabilizer: Sorbitol/ Cellulose gum, Dextrose, Herbs and Spices: Cinnamon/ Clove/ Nutmeg/ Piment/ Ginger/ Coriander Seed/ Foil/ Cardamom, barn egg yolk, Raising agent: E450/ E500, soya flour, Flavouring, Apricot Kernels, Salt, Emulsifier: E471, Acidulant: Citric Acid.
Nutritional information
Per 100 g
Per 90 g Portion
Energy
1714 (g)
1543 (g)
Energy
417 (kcal)
375 (kcal)
Fat
16.4 (g)
14.8 (g)
of which saturated fat
5.5 (g)
5 (g)
Carbohydrates
59.7 (g)
53.7 (g)
of which sugars
33.2 (g)
29.9 (g)
Fiber
2.1 (g)
1.9 (g)
Egg whites
5.6 (g)
5 (g)
Salt
0.47 (g)
0.42 (g)
Allergy information
For all allergens please see the ingredients in bold. May contain traces of: milk and other nuts.